Whether you prefer to smoke, vaporize or eat your cannabis, a change is often needed. Using medical marijuana is all about finding out what works for you. Now, you may already choose to consume your favorite herbs in many or all of these ways, but there are some products (or even services) that might make you view this special plant in a completely new light. Here are some of them …
Tinctures
We know that tinctures aren't exactly new to most of you out there, but they're still a vastly underrated and little-known method of ingestion in comparison to other methods. Unlike edibles, tinctures enter the bloodstream almost immediately, with effects usually setting in within 30 minutes and thereby reducing the likelihood of taking more than you can handle. Potency and dosage is also relatively simple to control, making tinctures quite possibly one of the best ways to use cannabis for those who are wary of edibles and don't wish to smoke. A good tincture should also be a whole plant extract.
Of course, like most cannabis products, some are better than others. We've mentioned some of the better ones in past articles, but we'll mention them again: Cannakids, Jayden's Juice, Papa & Barkley and Evie's Drops. There are probably some other decent ones out there, but many of them have issues with potency. Some are more powerful than what the label dosage ratio states, some are underpowered. The best ones on the market will also likely use supercritical CO2 extractions in order to get prevent any unwanted contaminants (e.g. solvents) in the final product.
Cannabis-Infused Dinner Parties
From "high" teas to luxury, top-end dinner parties, haute cuisine infused with cannabis has apparently become "the new normal". Even celebrity chefs like Chris Sayegh and Miguel Trinidad have gotten in on the act, using small amounts of cannabis in every plate of food they infuse in order to not overwhelm those who decide to give it a try. (Plus, not every plate will be medicated.)
Though edibles aren't a new thing for most seasoned cannabis enthusiasts, there is no doubt that the traditional snacks of choice have often been brownies, flapjacks, chocolates and other sweet treats. With good reason, too: sugary things can help cover the taste of cannabis. Nowadays, however, it's all about using the terpenes in specific cannabis strains to complement your cooking. Essentially, using it like an ingredient in your pantry.
This makes sense when you think about it. Why not use a little bit of California Orange Bud for your brownies, Soma's Lavender for your chamomile tea or Mr. Nice's Mango Haze for a spicy curry, rather than just chucking in any old strain to whatever you're cooking? Most of us don't tend to enjoy the taste of cannabis, but matching the terpenoid profile to what you're cooking can help make cannabis taste rather flavorsome!
Skincare, Makeup and Beauty Products
Body creams and body oils made by the likes of Apothecanna are given the standard bearers of the beauty industry a run for their money. Not only are they making makeup that can help make you look beautiful, but they're making all sorts of health & wellness that might actually help soothe aching muscles and inflamed skin. There aren't many high street brands, even at the high end of beauty products, that can boast similar properties. Moreover, the price of these beauty products is not too dissimilar to high-quality health & wellness products out there on the market today. Plus, the ingredients tend to be mostly – if not all – natural and organic.
There are lots of other great topicals, salves and skin care products out there that have some rather glowing reviews and testimonials, helping some people beat acne, psoriasis/eczema and even MRSA! There's That Glass Jar, Mary Jane's Medicinals, EVOLAB and Champion Cannabis, Lord Jones, Prana by United Cannabis, Whoopi & Maya and many more. Some of the products were made with specific conditions in mind, but this doesn't mean that they can't be used for everyday aches, pains and conditions as well. After all, we use aromatherapy and the like for many beauty and healthcare products, so why can't cannabis be one of those therapeutic ingredients?
Sexy Times!
Look further into some of the brands we've mentioned so far, and you'll notice something: some of them have oils and rubs especially made for fun times in between the sheets. Some companies have taken this concept of cannabis as an aphrodisiac, and focused upon its potential use as an ingredient for intamacy with one's partner. One such company is Sutra Sensuals, who have made two products: the serum "Arouse" and the massage oil "Touch".
Bong-Vape Hybrids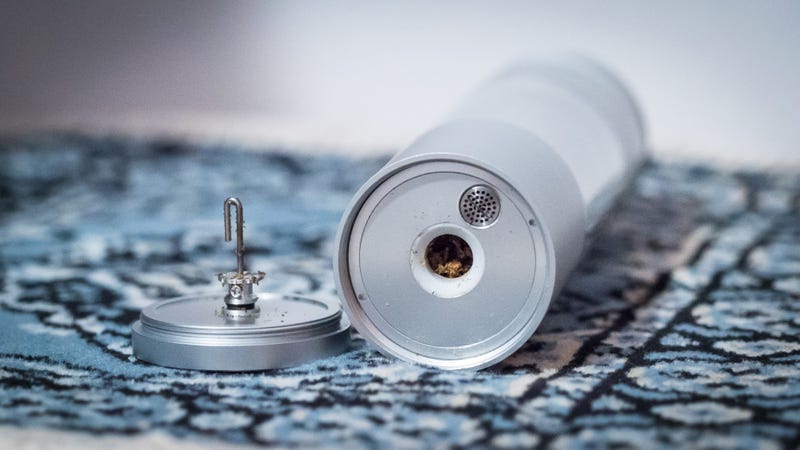 One of the most common complaints with vaporizers is that many don't feel the traditional "hit" that many cannabis users are used to. Yes, as unusual as it may sound, some people like that slightly tickly feeling on the back of the throat they get after inhaling cannabis! Bongs, on the other hand, are known for the flavorful smoke they produce, but people are still wary of the smoke, and bongs tend to use up a lot of cannabis.
Cloudious's Hydrology9 attempts to combine the advantages of vaporizers and bongs via the use of a water filtration system, and many people seem to enjoy the results. Plus, unlike most bongs, Hydrology9's vape-bong is portable, meaning that you don't have to lug around a massive, expensive piece of artistically-crafted glassware with you everywhere you go.
Incognito Vaporizers
One of the advantages of vaporizers is that they can easily be hidden. However, some vaporizers are still obviously vaporizers, and for some it's necessary in order to keep even more discreet than usual. Some functions require to keep your personal needs out of plain sight, after all, and some also want to keep any obvious piece of kit out of the view of their family or other close ones.
In response to this demand, companies have been trying to create a simple, nondescript vaporizer that can be easily hidden. This has lead to Ares by Linx Vapor, pre-filled Hmbldt Dose Pens, Kandypens' range of vaporizers, O2 Vape Pens, Dixie Elixirs' disposable vape pen and the Pax 3 vaporizer by Pax Vaporizers, amongst many others (though these are some of the best ones).
Yet, with portable vaporizers, there are several problems: low battery life, unsatisfactory "hits", problems with design and functionality and fragility of the vaporizer. Many people use disposable vape pens for this reason, but having a decent portable pen for flowers and concentrates of your own choosing is still necessary for many people. Wherever possible, do a "try before you buy" and see if a friend will let you have a go on their portable vaporizer to see which ones are best for you. From what we've seen, the ones we've mentioned are amongst the most highly-rated, but there may be some great ones out there we don't know about.
Pizza! Sauce or Delivery
Podey Pizza started to distribute its pot-laced pizza sauce to medical marijuana dispensaries in 2014, and there have been companies delivering munchie-inducing pizzas to patients in areas where medical cannabis isn't banned – companies like Stoned Oven Gourmet Pizza and Ermont, Inc. Clean Healing also have a High Times Cup Winner in their pizza sauce, which is definitely a must-try for those who like a wide variety of medicated edibles.
Transdermal Patches
We've gone over topicals and salves, but we mustn't forget about transdermal patches, which can:
Allow for a steady rate of absorption over time
Come in a variety of formulations and strengths
Be used on an upset stomach
Be applied directly to an inflamed external area
Cannabis-laced transdermal patches work in the same way nicotine patches do – by going through all seven layers of the skin and entering the bloodstream. However, unlike with topical creams, transdermal patches can have a psychoactive effect, as it's entering the bloodstream. Unfortunately, also like some other transdermal patches, cannabis-infused transdermals can cause allergic reactions in some people. Also remember to apply transdermal patches to clean, dry, hairless skin to get the intended effects.
Suppositories
As uncomfortable as it sounds, it is indeed possible to administer cannabis rectally or vaginally. In fact, Foria have created vaginal suppositories  and cannabinoid-laced tampons for relief from menstrual cramps, and they are very highly regarded. Most suppositories are oil-based, meaning that, yes, you'll essentially be sticking a bullet-shaped capsule up your behind! According to Cannadigest, suppositories might actually be the most effective way of ingesting cannabis, as THC and other cannabinoids are more bioavailable this way.
It's also worth remembering that some people cannot ingest cannabis any other way, and may suffer from conditions like colon cancer or internal inflammation, where direct application of cannabinoids may be helpful. Just remember to wash your hands and wear a pair of gloves before administering cannabis in this manner! (Oh, and wash your hands afterwards as well!)
Sublingual Sprays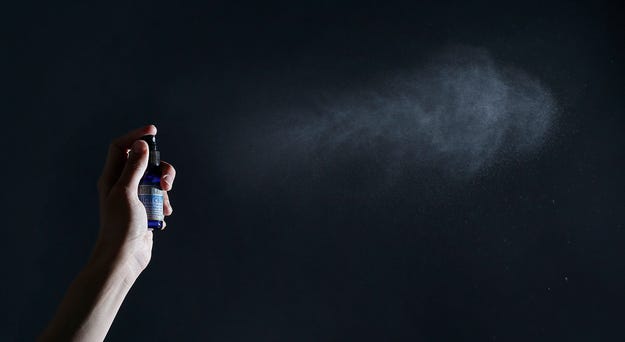 Technically, sublingual sprays could be seen as tinctures, seeing as they're also often whole-plant, oil-based extractions. The only difference is that you're titrating cia spraying rather than using a dropper. Care By Design offers a range of sublingual sprays, as do Mirth Provisions and Ethos Innovates.
Are there any new or interesting gadgets or companies for MMJ that we've missed? If so, then please tell us about them!